We are a small family farm enjoying simply natural farming. Our farm sits on 56 pristine acres, land that is comprised of both forest and open grassy fields. We are fortunate to be so conveniently located near both Malta, Saratoga Springs and Burnt Hills New York. We grow and produce pastured roaster chickens, free range brown eggs, pastured pork and heritage meat rabbits. At MBF we are excited to expand our horizons into new projects and hope to add new products to our farm in the coming year. Can't wait to see what's next !

Mack Brin Farms is one of New York's only conservation breeders of the critically endangered San Clemente Island Goats. We sell both goat kids and starter herds to families and schools that are wanting to help bring this magnificent breed back from the edge of extinction. In addition, we also have wonderful pet Holland Lop bunnies for sale . We are available for farm tours most of the time but ask that you make an appointment before stopping by.

---
Help Support our Mission to Save the San Clemente Goats!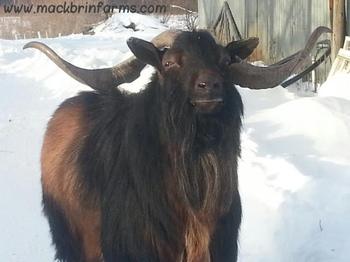 Meet Chile, foundation sire of Mack Brin Farms' San Clemente Island Goat conservation herd. With a 3-foot horn span, we think he's quite a handsome fellow!
Born in Virginia, he spent his early years on a farm in downstate NY until he came to us at Mack Brin 3 years ago. He has done more than his part to help bring back the breed from the brink of extinction, fathering more than 20 babies, including the only known set of quadruplets in current breeding herd. Now, his "kids" can be found in
San Clemente Conservation
herds across the United States.
---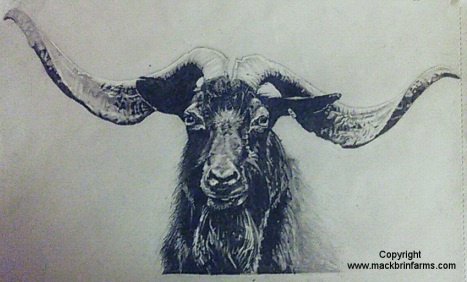 Chile is helping to save his herd once again with this outstanding portrait by local artist Kelsey Haltigan, which we are now offering to our supporters as a limited edition t-shirt.
---
Please show your support of Mack Brin Farms' San Clemente Island Goat conservation program by wearing this beautiful tee-shirt with a hand-drawn image of Chile!
Available for just $19, and the shipping's on us!

Prints available upon request.